LEGGINGS DESIGNED
FOR YOGA.
MADE FOR WOMEN.
If you're looking for an activity that trains to body while calming the mind, yoga comes second to none, and with an activity where the focus is on mental and physical wellbeing, it's important to make sure your outfit provides maximum comfort. From gentle warm up poses and sun salutations to handstands and arm balances, Komoshi has made it their mission to ensure your movements are fluent and natural.
Now or never
Last units in Stock
DESIGN IS NOT JUST ABOUT PRODUCT.
DESIGN IS ABOUT RESPONSABILITY
Yoga clothing & activewear
Nothing compares to being able to embrace the connection of body and mind and keeping your focus within. Let our clothing do its part and enhance your yoga practice. Our yoga apparel is designed for ultimate support through each movement and each breath, so that nothing distracts you from your practice. Whether you prefer the meditative type of practice or a physically demanding asana practice, Komoshi leggings were created with your comfort in mind.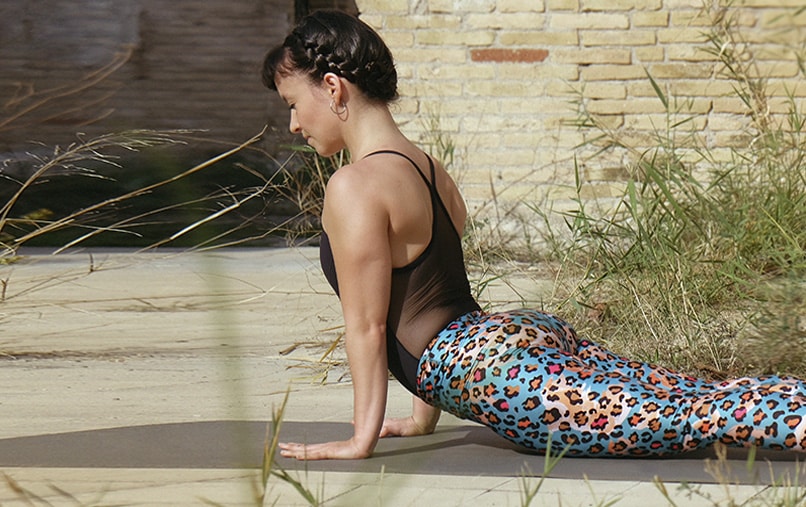 Quality is key in yoga clothing.
Lightweight and breathable fabric is designed to keep your cool through challenging moments, such as Ashtanga classes, dynamic asana transitions, or intense moments of self realisation. Our leggings provide elasticity that allows you to move with a full range of motion while maintaining their opacity – perfect for achieving flexibility goals without compromising your comfort or dignity.
Leggings for stand out from the crowd.
We created a unique aesthetic to let you express your individual style through a variety of bright colours and bold patterns.
Look your best even in the toughest moment of your practice. Feel the confidence build as you find your fearless inner warrior in apparel that fits like a second skin.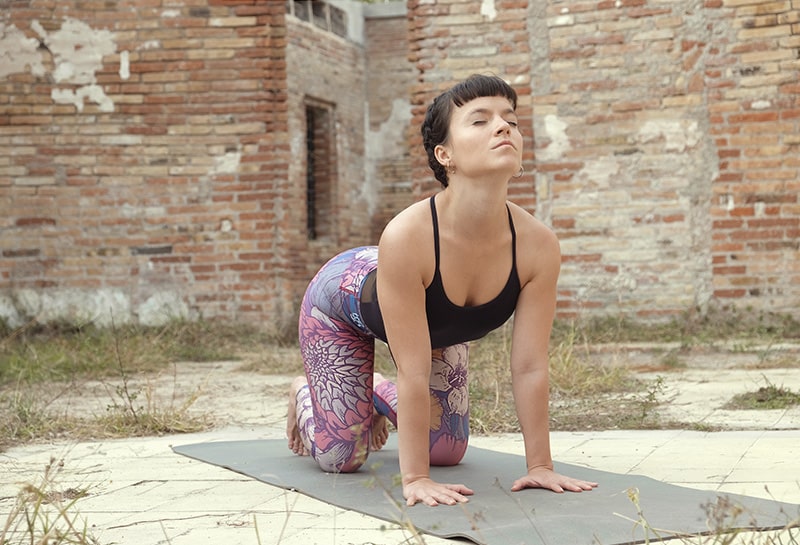 Find time to embrace your body and mind.
How to choose the right leggings to practice yoga?
Yoga is a perfect way to get in shape and improve your wellbeing. It brings strength to your body and peace to your mind. To get the most out of your yoga sessions, it's important to be comfortable and relaxed. Yoga apparel plays a big part in supporting us in our journey. Choosing an outfit that supports you and adapts to your body along the way makes a huge difference, and while picking yoga leggings may seem like a simple task, there are some important factors you should consider.
Leggings might seem like a low-maintenance item of clothing, but as many of us will attest, buying good yoga tights can be tricky, especially when you order them online. They often end up being too tight, too long, too short, too low or high-waisted, and sometimes they don't even look like they were designed for humans! Not to mention the fabric – the leggings might have looked good in the picture, but when they arrive, you suddenly discover that they're see-through, non-breathable, make your skin itchy or lose colour after one wash. Choosing the clothes for your practice goes beyond appearance – it's important to denote the comfort, moisture-wicking ability, quality of work and durability of the fabric.
So instead of having to buy heaps of leggings that need to be thrown away almost immediately, invest in a product that will last you a lifetime. We created a guide to help you find the balance between functionality, appearance and ethical choices.
Check out our essential tips for picking your yoga leggings below.
Comfort & yoga leggings
Comfort is the most important element in choosing leggings for practicing yoga.
Yoga practice should feel like a moving meditation, a time for you to connect to your inner self without the distractions of the outside world. Unfortunately, it is near impossible to concentrate on the practice if your clothing is a source of discomfort. Without a doubt, comfort is the most important element in choosing leggings for practicing yoga. If your leggings are too tight, if they restrict your movement, don't stay on your waist, make you overheat or even reveal your undergarments for the world to see, you will likely find yourself unable to focus. There has to be a fine balance between compression and freedom of movement. Your yoga leggings should feel supportive yet comfortable. A good pair of leggings should feel like second skin – a thin layer of fabric that accompanies your body and adjusts to your every movement.
This balance can be difficult to achieve but that's the difference between a pair of leggings you will only wear once and the leggings you will want to wear forever! Komoshi leggings are designed to establish this perfect balance, being comfortable but snug in all the right places. The unbeatable comfort of our leggings will make you wish you never had to take them off!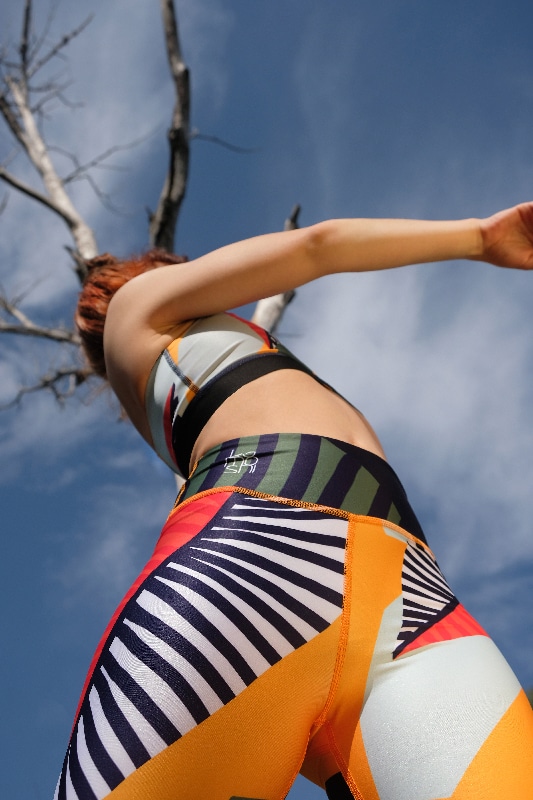 Fabric & sportswear leggings
The fabric is, without a doubt, the fundamental element in sportswear.
No matter how beautiful the leggings are, if they are made from a poor quality material, your workout is likely to be a disappointing experience.
So what type of fabric should you look for in the quest for the perfect yoga leggings?
Look for leggings made out of breathable material. When practising yoga, you are building up body heat, and in order for your experience to stay positive, the clothing you're wearing should curb the overheating. Breathable fabrics are, above all, thin enough to allow drops of sweat to the surface without any getting trapped. For that same reason, its fibers are slightly separated, so that the skin can breathe.
Speaking of heat, exercise tends to make us sweat, so a quality pair of leggings would be made from fabric that would be able to wick moisture and keep you dry throughout the practice. As well as being made with sweat-wicking technology, your leggings fabric should have undergone antibacterial treatment in order to avoid allergies and unpleasant odours. This can only be achieved with synthetic fabrics especially designed for physical activity. While fabrics made with natural fibers (such as cotton) feel comfortable, they should not be used for sportswear for hygiene reasons. Clothing with anti-bacterial treatment prevents the proliferation of germs in fabrics.
Next, check that the leggings are not transparent. Not only will that protect your dignity, it will prevent your leggings from wearing out at the stretched areas.
Komoshi leggings are packed with features and technologies that improve your performance and give you support throughout your yoga journey. We monitor every step of the process to make sure you get the highest quality product. The fine gauge fabric used in our women's clothing provides the necessary compression while being lightweight and elastic for a wide range of movement. We focus on the search for maximum opacity, lightness and adaptability to women's bodies to achieve the best performance and comfort. The moisture wicking technology used in our fabric helps your body stay cool and dry even during fast-paced Vinyasa sessions, permanently and without chemicals. The fabric of all our sportswear was developed using DryClim technology providing excellent breathability, which quickly absorbs moisture, helps it evaporate, and has an antibacterial treatment that eliminates odours and prevents allergic reactions.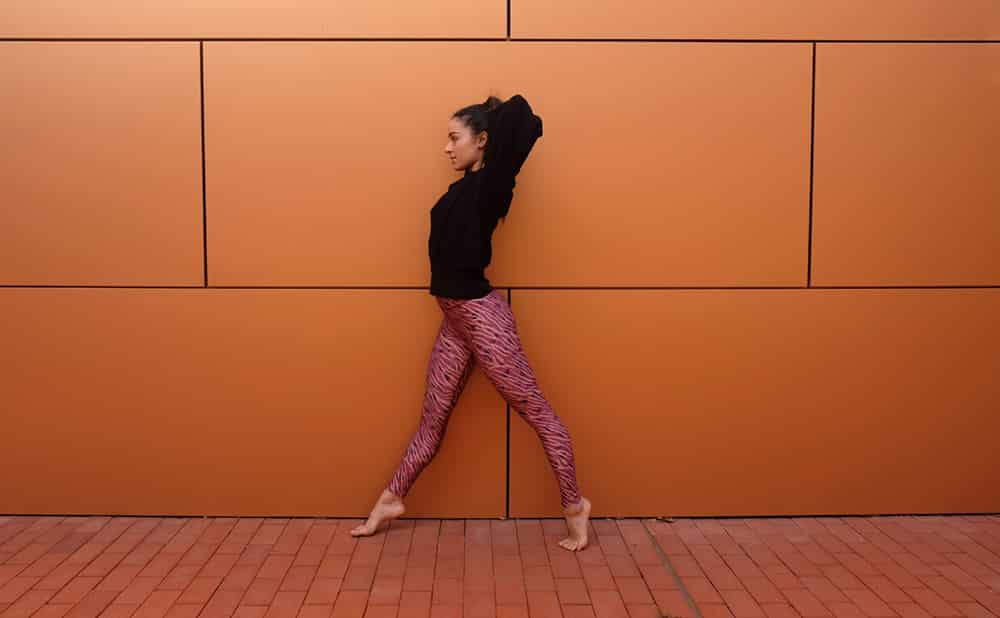 Leggings designed for yoga
Leggings designed with performance in mind
The design of your yoga leggings is as integral as the materials. When leggings are designed with performance in mind, they account for details such as fit, compression and even stitching. A well-designed pair of leggings will make you forget you are even wearing them. Since yoga requires a lot of shifting, twisting, folding and backbending, you want to choose a high-waisted pair that won't require you to keep pulling them back into place. High-waisted leggings allow you to move more securely. A well-fitted waistline also means you won't get distracted by too much compression or a lack of support. Opting for a high waist is also beneficial to those who are self-conscious about their belly or require extra support in that area (e.g. post-partum).
When buying a new pair of leggings, watch out for the seams. If the seams are located in an inconvenient place, where they rub your skin or limit your movements, this will undoubtedly affect your performance. In well-designed yoga leggings, the seams do not leave any marks on your body even after extended periods of time. As well as paying attention at the placement, it's important to make sure the stitches will stay strong and maintain the structure of your leggings. No one likes to bend down only to discover a hole – it's both uncomfortable and embarrassing!
Wearing the right sportswear has the power to make you feel safe and give you the confidence boost you need. Komoshi leggings are a perfect example of yogawear designed to embrace the modern woman. The high-waist feature, along with intelligent seam placement, ensure a smooth and harmonious yoga practice. We pride ourselves on the quality of each piece we have manufactured. We monitor every step of the process to guarantee a snug and comfortable fit that would allow you to focus on your yoga practice without any distraction.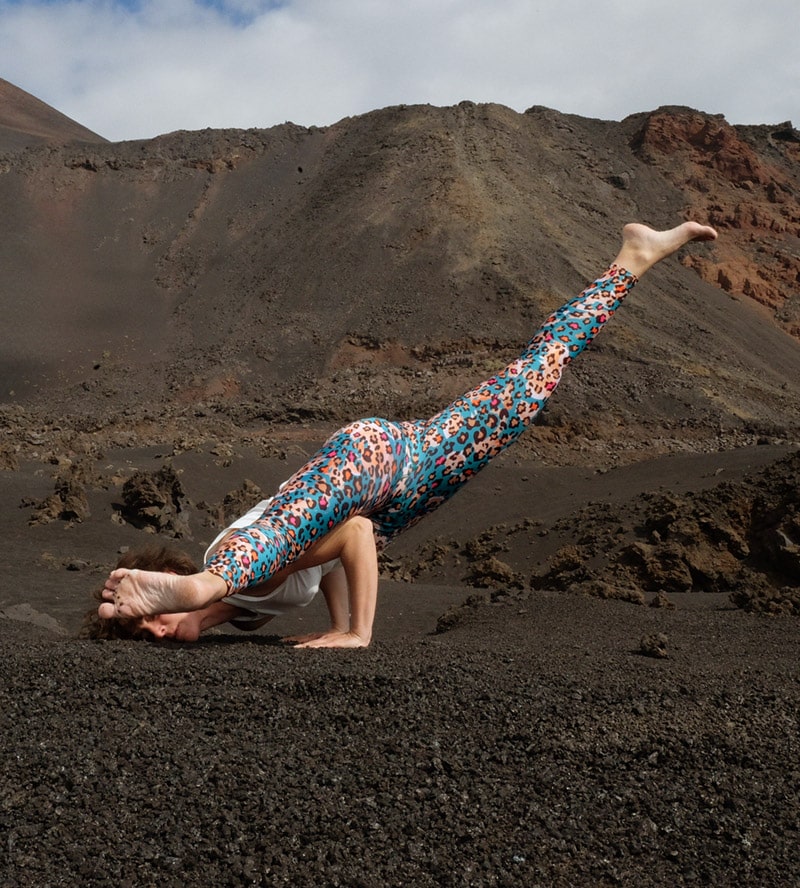 Design is not just about product.
Design is about responsability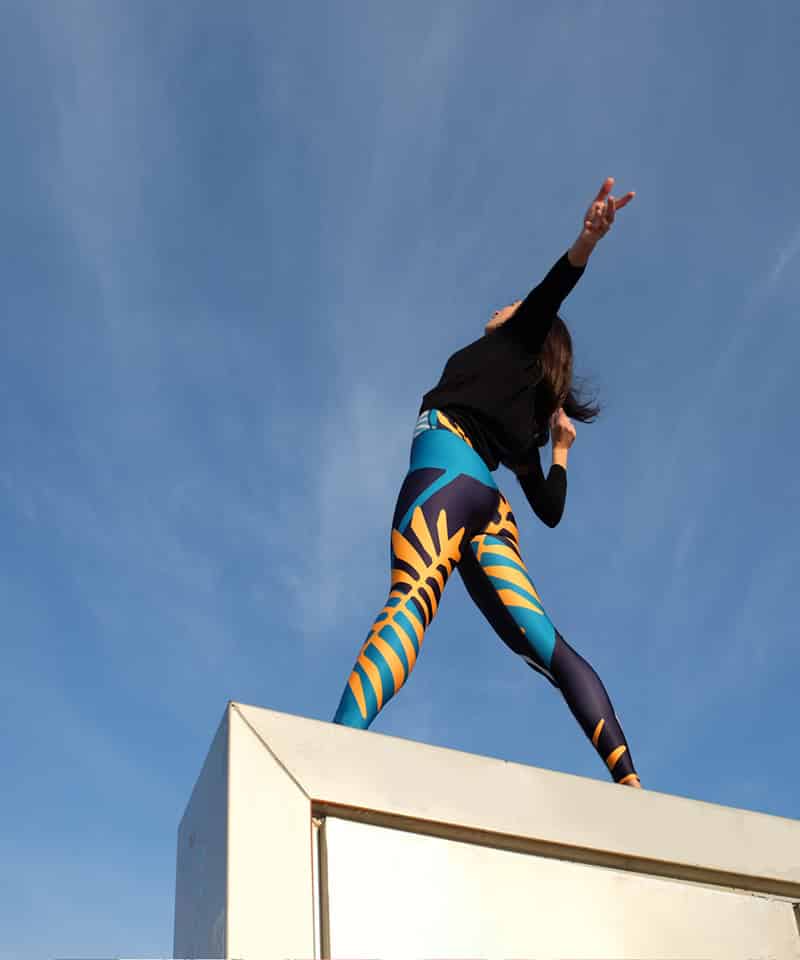 Colour, print & style of your yoga clothes
Life is too short to wear boring clothes!
Once you've met the criteria above, you can focus on colours and patterns. Why limit yourself to monotone designs when you can invest in a bright eye-catching print?
We often limit ourselves in our choices, imposing artificial standards of what is and isn't appropriate. Many of us never dare to wear bright colours and bold patterns, yet we forget how much joy we feel when surrounded by beautiful hues!
In fact, colours have the power to evoke positive feelings – the colour of our clothes can impact our mood and improve our wellbeing, so using more vivid colours can have a great influence on your life.
According to scientific research, our attitude and behaviour is heavily affected by the clothing we wear, often unconsciously influencing the way we feel and act. Initially opting for a brighter print might take you out of your comfort zone, however wearing daring patterns and bright colours regularly should make you more confident. Another study suggests that enjoying your outfits has a positive effect on your motivation levels, which means you are encouraged to reach your yoga goals.
At Komoshi, we use striking patterns and vibrant colors to make sure you light up the studio during your yoga practice. With the wide variety of colorful designs and patterns, you are certain to find a pair of leggings to make your practice a better experience. Shine bright while doing your practice!
Ethics & responsibility for your yoga leggings
Design is about responsability
This point is often forgotten, however more and more people nowadays are taking the ethics into consideration. As a yoga leggings company, Komoshi sees the ethical practice of Ahimsa, or non-violence as integral to the business. Yoga practice does not end when we roll up the mat, and living in accordance with yogic principles is an important part of life for everyone on the Komoshi team. Ahimsa, literally translated from Sanskrit to convey the concept of "no harm" applies to all living beings and our planet. Our actions and words have an effect on the world around us, and often even the small choices can indirectly cause harm.
Wearing a beautiful, comfortable outfit won't feel as sweet when you learn that the workers who produced it were treated unfairly, or if manufacturing your leggings resulted in an environmental disaster. It can be easy to stay in denial but to truly follow the yogi path we need to accept that our actions have consequences and to not be afraid to make more difficult choices.
There cannot be a perfect yoga garment if someone has suffered to make it.
There cannot be a perfect yoga garment if the planet is worse for it.
The Komoshi team monitors every stage of production and distribution of all our products to make sure that all the workers are paid fairly and provided with decent working conditions. We demand quality – not only in the products that we create for you, but also when it comes to the lives of every person who makes them. Instead of betting on mass production we choose slow fashion – producing high quality apparel while looking to improve our methods with every new batch. We are constantly looking for ways to reduce our carbon emissions, water consumption and our environmental impact.
By making a quality product and incorporating timeless designs, we also ensure that our leggings last a long time and do not end up in landfill.
At Komoshi we believe that design is about responsibility. We develop the yoga leggings in a conscious way and we are not afraid to question our practices in order to improve them even further. We push the boundaries, time and time again, to reduce our impact and do our part.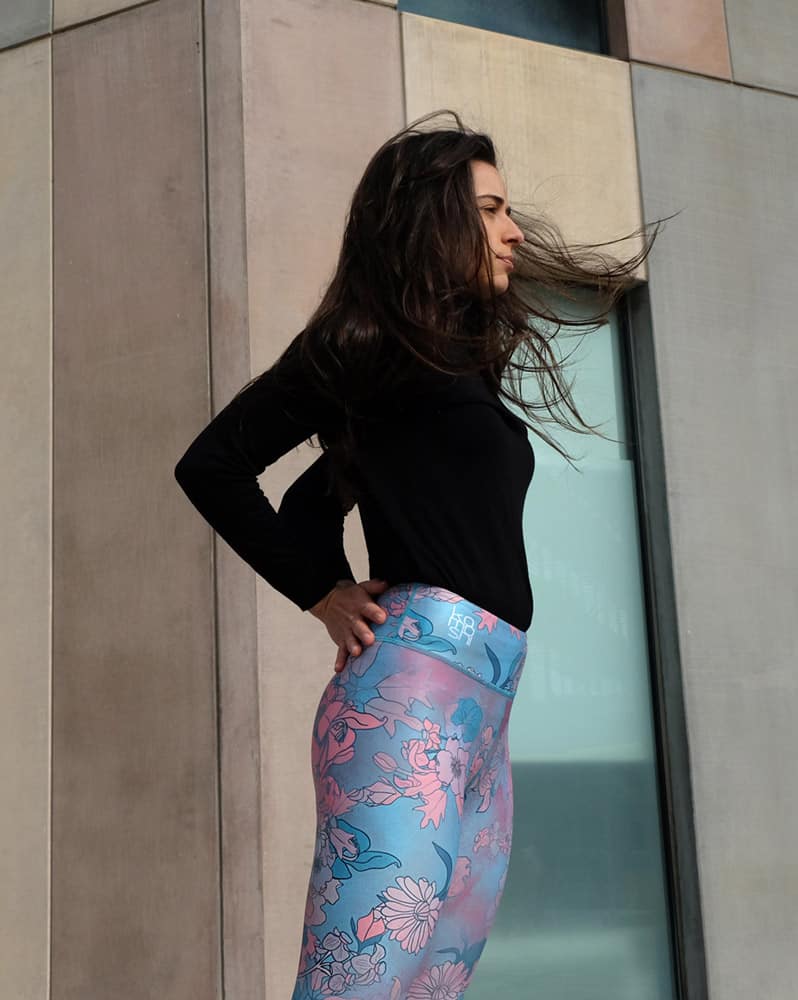 If you don't pay it,
someone, somewhere is paying for it.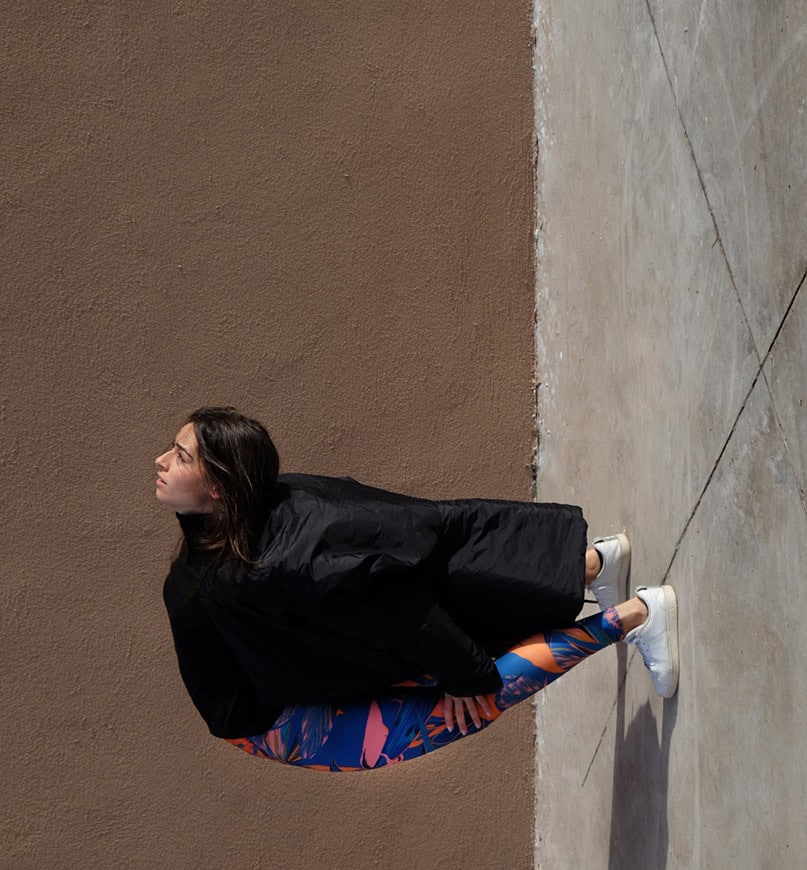 Price & yoga outfit
Fair Trade yoga clothing
The best kind of leggings not only fit your body but also your budget!
Price is often the number one factor when choosing your yoga outfit. However, that's usually  because an average consumer does not have enough information to tell the difference between an ethically-produced, high quality product and something that will fall apart after one wear.
If it seems too cheap, it is probably too good to be true. When creating yoga leggings, there are many costs that have to be considered. As well as using the best available fabric produced using the most up-to-date technology, we make sure that every person involved in the manufacturing process is fairly compensated. From pattern designers and seamstresses, to yoga models, photographers and website developers, our business model is set up to run in accordance with Ahimsa principle. The price you see on the tag reflects the hard work that has been put into creating and improving our products. It is not the result of our decisions but the reflection of our actions. Everything has a price. If you don't pay it, someone, somewhere is paying for it. And if another person has not paid for it, the planet did.
And if paying a little bit more seems excessive, remember the old saying: he who pays less, pays twice. Cheaper leggings are more likely to rip, become misshapen or lose their colour, ending up in landfill and forcing you to spend money on a new pair. When you choose Komoshi leggings, you choose to make an investment. Spend your money wisely.
The best decisions are fully informed decisions and now that you read this guide, you can be your own expert. As consumers we have so much power to change the world, so choose well.
Be the best version of yourself.
Be the change you want to see!
Now or never
Last units in Stock